Gangapriya Chakraverti
DIRECTOR - HUMAN RESOURCES AT FORD MOTOR COMPANY - GLOBAL BUSINESS SERVICES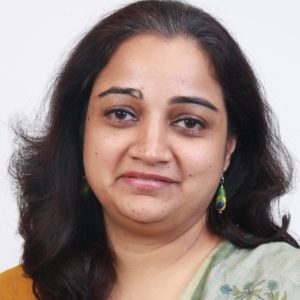 Gangapriya Chakraverti is a Director responsible for the Human Resources function at Ford's Global Business Services organization, an 8000+ strong organization, headquartered in Chennai, India. She joined Ford after spending over 15 years at Mercer Consulting where she led the
Compensation Information and Consulting Practice for their business in India. Her first job was with the Murugappa Group in Chennai.
Gangapriya is on her journey to becoming a Coach and has an abiding interest in issues related to Diversity and Inclusion. With her newfound
interest in Wellness, she practices yoga to give her a sense of balance that seems elusive. Besides work, she gains energy from being outdoors with
nature for the company, appreciating art and making sense of issues in our increasingly complex world.
Gangapriya has a Bachelor's degree in Psychology from the Women's Christian College, Chennai and a post-graduate degree in Personnel
Management from the Tata Institute of Social Sciences (TISS), Mumbai.


The Fuller Life © 2018 | All Rights Reserved