Nimitha Menon
SENIOR VICE PRESIDENT, PRACTICE LEADER - HEALTH RISK MANAGEMENT CONSULTING AT MARSH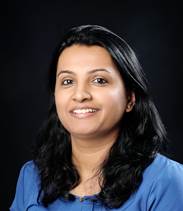 Dr. Nimitha is Senior Vice President with Marsh, India and leads the Health Risk Management Consulting (Health & Wellness) services for MMB, India and lead projects on strategic health management consulting. She is a medical doctor with over 14+ years of experience in the healthcare industry in the fields of employee health risk management consulting, health insurance & employee health & benefits. She has worked in varied roles at APAC and global level in projects in the field of health care management and medical insurance.
Prior to joining Marsh she held the leadership role in setting up India specific Health & Benefits Consulting business. In the role as practice leader and technical advisory, she successfully lead numerous employee health management consulting projects for corporate employers including wellness strategy development.
She also held the position of Senior Health Management Consultant, Regional Employee Health and Benefits, at Mercer Consulting for close to 5 years. In this role, she was responsible for leading, project managing and providing ongoing advice and strategic direction in key health and benefits consulting assignments across the Asia Pacific region.
She was one of the founding members and part of the health underwriting and product development team of Swiss Re Healthcare Services prior to Mercer. Nimitha has also worked extensively in the health insurance industry and Third Party Administrator services and was part of the core medical team in TTK Healthcare services. Before starting her career in the corporate world, she did a few years of general practice.


The Fuller Life © 2018 | All Rights Reserved